Summer is upon us, and that means the days get longer and the sun shines brighter, but before you know it, you have a bunch of kids chiming in that there's nothing to do with all of those long, carefree days. If you're looking for a way to keep kids of just about all ages busy for an afternoon of crafting fun without it costing you a fortune, then grab a few inexpensive flower pots at the local home improvement or craft store and some craft supplies that you have lying around your house, and let them go to town!
One of the nice thing about using a pot as the basis of a craft activity is that it offers a different "canvas" than usual. Unlike the flat expanse of white paper, the shape and size of different types of pots can make for a wide variety of projects, and can remain interesting to kids, so they won't easily be bored because they feel like it's something they always do. In fact, you can fill more than a few lazy summer afternoons with a pot decorating project and each time the project can be different and interesting.
The best part about using flower pots as the basis of a summer craft project is that when the kids are done creating, you are not left with an art project that you put on your fridge for a few days out of obligation or send to the trash after a few initial "oohs" and "aahs". Instead you are left with a functional item that can be used around the house, either inside or out, to plant some flowers, herbs or a plant or two – or you can earmark the finished flower pots as the perfect personalized gifts to give to teachers, grandparents, neighbors or anyone that you think could use a little pick me up.
So what do you need to get the kids creative juices flowing? Here are a few ideas, although there is really no right or wrong way to proceed with this type of craft project.
Pots (you can buy clay or plastic pots in home improvement or craft stores and they're pretty cheap)
Acrylic paint
Oil pastels
Colorful gems, stones, shells, rocks or other small trinkets
Glue (make sure it is strong enough to hold larger items like rocks, if used)
Photos, magazine pictures, wrapping paper, or colorful strips of paper with modge podge – your kids can create a colorful collage right on the pot!
Ribbon of varying widths (just glue in place)
Waterproof sealer – if the kids are painting, using pastels, or creating a collage, you should apply a waterproof sealer over their finished artwork so it doesn't get ruined the first time you go to water the flowers inside.
Just about any type of craft items you have in the house can be used to decorate the pots – just let their imaginations be their guides. Then, if you want, you can fill another afternoon by getting a bag of soil and some seeds, flowers or small plants, and having the kids plant them in their newly decorated pots.
This summer fun craft idea was contributed by Andrea Cohen, an editor at DIY Her Way.com,a site filled with home improvement advice, how-to info, and creative project ideas geared to women of all ages.
Related posts
Read More
Your kids will love this creative summer craft!
Start keeping an eye out for rocks of all shapes and sizes, watching for flat, smooth stones. Look for rocks that can be turned into animals, flowers, dragons or fairies. Clean the stones in warm, soapy water and let dry. Use a pencil to sketch out your design on the surface of the rock. It can be an animal, insect, flower or anything else that you desire. To make this craft easier for young kids, use black paint or marker to create an outline of the design.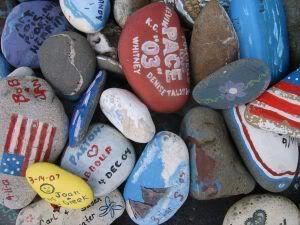 Then, once it's dry, they can fill in the outlined areas. Arrange an assortment of water tempera paints and paint brushes and have fun painting. Wiggly eyes, buttons and other embellishments can be added to your design. Use the creations throughout your garden or household plants.
Related posts
Read More